St John USVI Astronomy

St John is an American owned island about 90 miles from Puerto Rico. With a population of less than 4000, only two "large" hotels and over 1/2 of the island taken up by a National Park. St John is an excellent place for astronomical vacations. Did I mention it is only 18 degrees North of the equator?? In theory the Large Magellanic Cloud just peeps up over the southern horizon...but I've never seen it! Eta Carinae and most of the southern sky's other gems DO rise high in the sky and help make it worthwhile to bring a scope along on your vacation.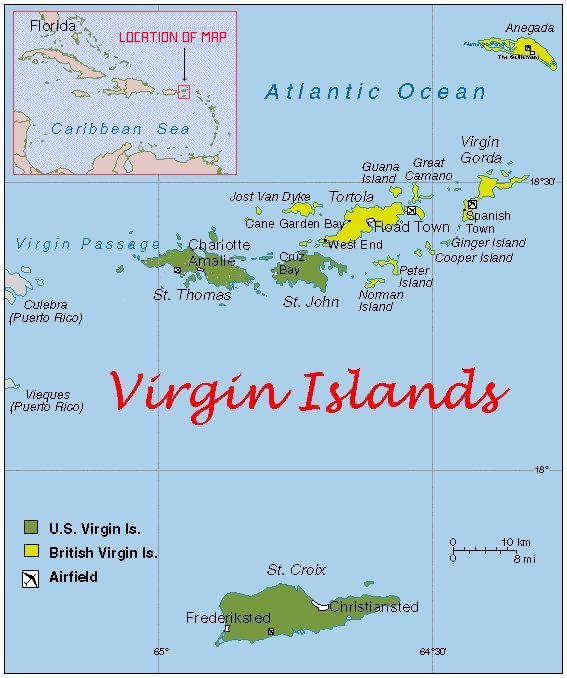 How do you get to St John....Good question. since it has no airport you should fly to St Thomas (airport code STT). US Air, United, American, Continental and Delta all can get you there. Once on St. Thomas, catch a taxi-van to Red Hook, about 30 minutes away. At Red Hook take the 15 minute ferry boat over to St John. If you haven't been to the US Virgin Islands before the drive to Red Hook may surprise you...the island has VERY steep hills, you will at first be surprised the van can make it up the hills and around the switchbacks. St John has much the same topology! If you rent a car on St John, make sure its 4 wheel drive.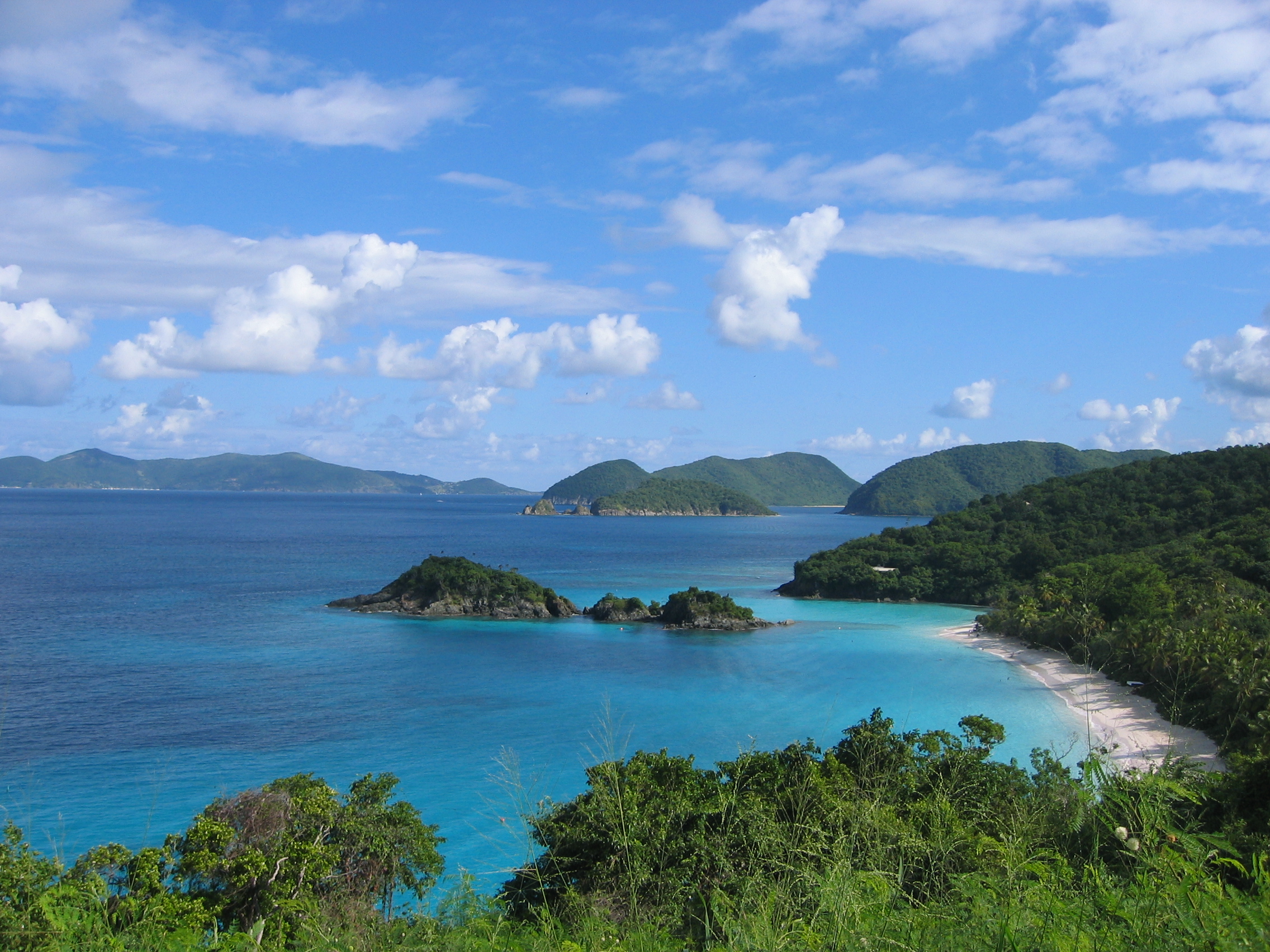 Trunk Bay - It doesn't get any better than this. But arrive early before cruise ship people!! If its crowded, go to Hawk Nest

Where do I stay on St John??? Another good question. Caneel Bay resort looks like a wonderful place, but at room rates of up to $600 per night, I'll pass. The Westin resort looks OK, but frankly it is not on the best bay for swimming/snorkling and doesn't seem to be particularly well placed for astronomy. We rent a house. Many homes are available through rental agents. The rental agents clean the homes prior to your arrival, help you arrange rental cars, get you to your house and are generally available to handle life's little crises. We have booked through Destination St. John (www.Destinationstjohn.com) and Caribbean Villas (www.caribbeanvilla.com) and Catered To (www.cateredto.com). They are all good outfits. I'd say that Caribbean Villas offers more houses, more selections, while Destination St John only tacks on an 8% USVI tax to their rate while Caribbean Villas tacks on 13% (8% tax plus 5% service fee). Of all these companies, I have to say that Catered To does the most thorough cleaning and prep job on villas they represent. we just returned from "Sea Forever" on St John (Thanksgiving week 2007) and were floored at the villa, its location and Catered To - we will return here again, in a heartbeat!
Update Nov 2006 - just returned from Palm Villa rented through Caribbean Villa, a nice house on Gifft Hill. Views from S - NW. IMHO, Caribbean Villa did a LOUSY job of having it cleaned for us, and when contacted, did a LOUSY job of fixing the cleaning problems quickly. They did send a maid back...who came in with one damp rag in her hand to clean the kitchen and bathroom sinks as well as empty the partly-filled hemorrhoid pad jars and clean the moldy fridge. Needless to say, we cleaned up ourselves after she left. Caribbean Villas did call Sun, Mon, Tues and Wed asking if our place was clean enough and whether they should send someone else out...but by late Sat afternoon we had cleaned the house sufficiently to not want an interruption. We may not use them again...I don't need filthy sinks when renting $3000+ homes! Also learned from in-town shop keepers that Gifft Hill area has had >160 break-ins over the last year, with police doing NOTHING to solve them. It would have been good for Caribbean Villa people to mention this tidbit at some point.
Update Nov 2007 - we just returned from "Sea Forever" on St John (Thanksgiving week 2007) and were floored at the villa, its location and Catered To - we will return here again, in a heartbeat! Sea Forever is above Chocolate Hole on the south shore. Great views from SE through NW. we could see St. Croix 40 miles away. Also - I believe the area is more secure than Gifft Hill.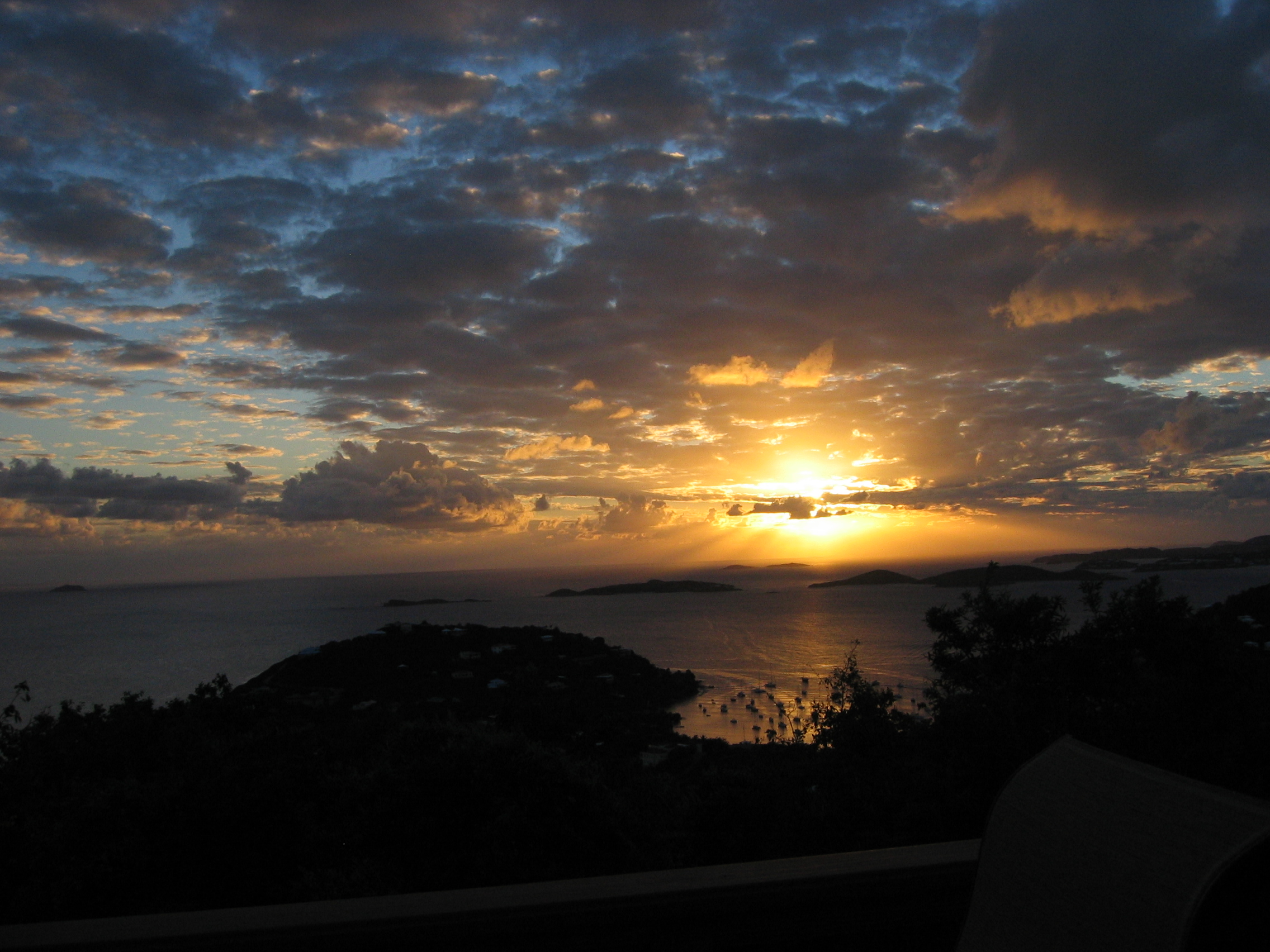 View From Sea Forever overlooking Chocolate hole (on left) and Cruz Bay (on right)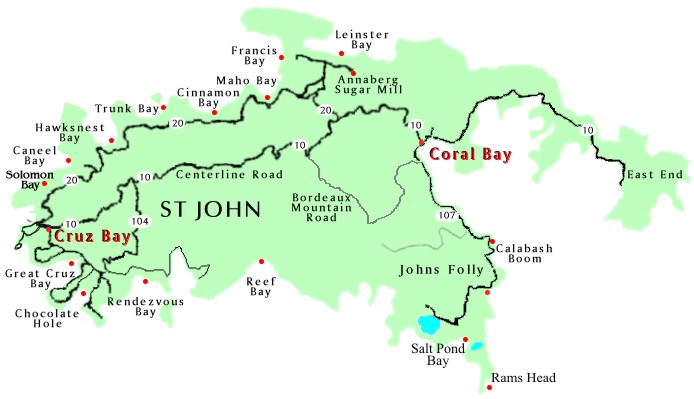 In choosing a rental home I look for something that has southern ocean views. St Thomas is to the west, so if it only sees sunsets, its not great for astronomy. If it has St Croix (to the south) views, that much better. Ask the rental agent. We've rented Cocolobo, Palm Villa, La Lapin and Seawatch from Caribbean Villas and not been disappointed with the views. Cocolobo in particular had spectacular east to south to west views. Las Brisas Caribe was MUCH more expensive, but had less than stellar southern exposure. Casa Contant offered by Destination St John had an OK southern view, but seemed a little run down (fall 2004). And if your house has less than perfect views...use your car and drive to the SE side of the island near Salt Pond...you'll find good spots to park and set up.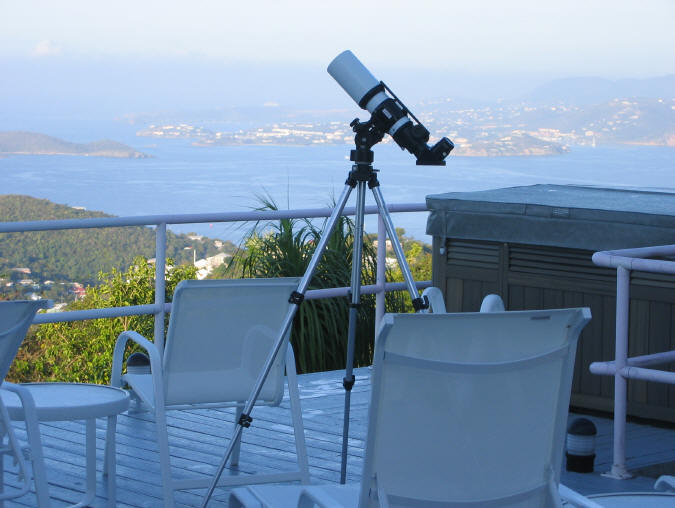 There's nothing like observing from your villa's deck. St. Thomas to the west is in the background. Telescope is looking south towards St. Croix 40 miles away, just visible at night. Sea Watch Villa on Gifft Hill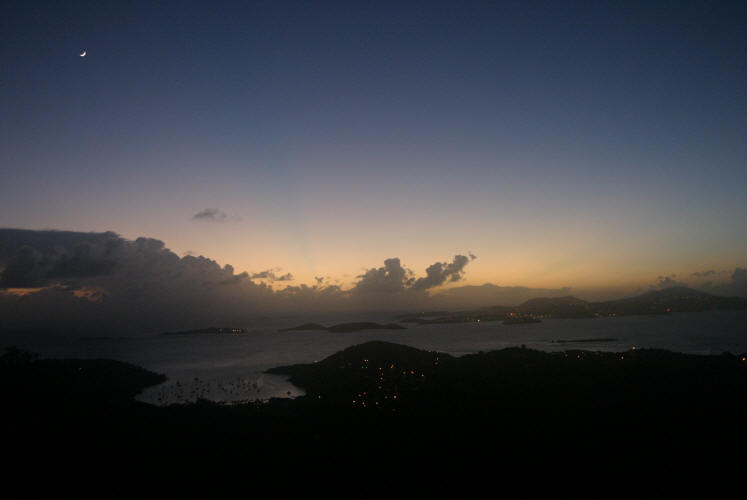 Twilight on St John. Great Cruz Bay directly below us, St Thomas in background, crescent moon setting. Yes...I do have a rum drink in-hand! Nov 2006 from Palm Villa
What else do you do on St John?? Well, it is not a big, built up glitzy Caribbean island, so casinos and big plush restaurants are generally out. It does have 7 or 8 of the best beaches that you'll find anywhere. Warm waters, abundant sea life, great snorkeling. Trunk Bay is a highly rated beach that has a snack bar and life guards...but it tends to have a lot of visitors, people coming from cruise ships moored at St Thomas. Try the other beaches...Maho Bay, Hawksnest, Cinnamon, Francis, Leinster, Salt Pond, etc. If you skip Trunk Bay, don't be surprised to find yourself on a 1/2 mile long beach with very few people, if anybody, around. St John means privacy. If you're in the mood to socialize, a number of good but not huge restaurants are in Cruz Bay and Coral Bay. Only one "chain" restaurant - a Subway, and its for sale (Nov 2006). Morgan's Mango and the Lime Inn are great at night, The Beach Bar and Shipwreck Landing are our favorite lunch and lively-evening spots. The Beach Bar is my favorite drinking-hole anywhere...and I have been around the block!

For astro use I typically bring something where the OTA can go as carry-on. I've taken a 94mm refractor and an 80mm NightHawk refractor. I'll take the NightHawk next time too. I watched a friend lug a Meade 10"...I'll pass on that. Update Nov 2006: I actually brought my AP400 mount w/Stellarhawk 80mm OTA. Took 2 carry-on bags plus tripod in checked baggage. Every night I just had "sucker holes" - cloudless 15 minutes followed by partly cloudy fro 1/2 hour, etc. Very depressing. I'll stick w/small alt-az mounts from now on and only consume 1 carry-on bag.